---
News
Posted by Matthew Quiles on
Hey Guys & Gals! So we ended up not being able to come back to YouTube, Shopify apparently has a deep rooted policy against non shippable items or some sort.. so it hit us. Then life happened, traffic to the site slowed.. and we fell into a routine of making a few sales here and there.. and next thing you know its a year later! We'll maybe explore YouTube when Steven is more available, right now he's busy streaming three times a week on WHATNOT! That's right! After a year long wait we were approved to stream just a short...
---
Posted by Matthew Quiles on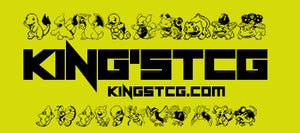 Why Champion's Path? We have an enormous stockpile! Also we haven't pulled them elusive Charizards yet!  When Will the contents of my purchase be delivered? We will ship out the contents of your ETB up to two business days After Filming. You will be notified; Via email, once it ships. Rest assured, everything will be shipped safely. When will you film the YouTube Video? We will film after 5 ETB spots are purchased, (since this is a new idea for us, we do not know when 5 spots will be purchased. if only one spot is bought after a 7 business day...